The Enterprise Server continuously updates the real-time applications with gateway data and simultaneously updates connected clients. Real-time monitors are automatically updated to reflect device and device group changes made in YourSite Explorer. Supervisors and agents are provided with point-and-click access to real- time performance statistics for their contact center, enabling them to identify issues in contact center performance and see who is available to answer or assist with calls.
The real-time applications include Contact Center Client, Ignite (WEB), and WallBoarder. In Contact Center Client and Ignite (WEB), supervisors and agents can view real-time voice statistics and the phone availability of contact center agents and employees. In contact centers that have the Multimedia Contact Center optional application, supervisors and agents can view real-time voice, email, chat, and SMS statistics. WallBoarder displays text messages and contact center statistics on one or more Spectrum Light Emitting Diode (LED) reader boards (wall signs).
Call recordings are initiated in Contact Center Client and are appended to specific Lifecycle reports. In addition to real-time monitors, Contact Center Client includes the following application areas:
Interactive Contact Center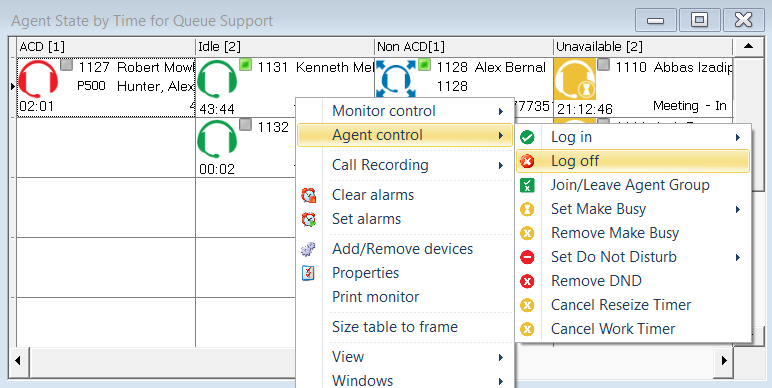 Using Interactive Contact Center, you can control the availability of agents and ACD queues. Agents can log themselves on or off, and place themselves in or remove themselves from Make Busy or Do Not Disturb.
Using Auditor, supervisors can view the historical real-time events that occurred on a particular date, in the sequence they occurred, at your own pace.
Using Management Console, System Administrators can restart services, administer the database, and perform maintenance functions.
The ACD Inspector searches for agent and ACD queue event records. The SMDR Inspector searches through SMDR data to find specific contact center events.
Contact Center Client provides instant messaging capabilities for employees. Contact Center Chat provides the online chat presence of employees, including Online, Offline, and Away. Employees can view the availability and presence of other employees before they transfer calls or send online chat messages. With Microsoft Skype for Business, Contact Center Chat integrates with Skype for Business to provide enhanced presence.
The following applications and features reside in Contact Center Client: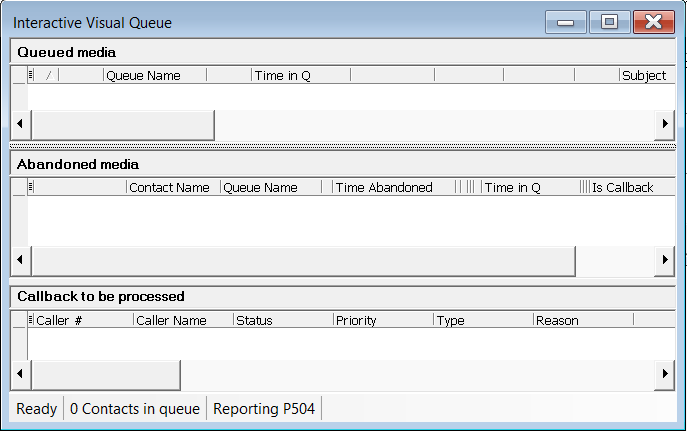 Interactive Visual Queue is an optional application that enables agents to monitor calls within queues, move calls from busy queues to less active queues, and call back abandoned callers.
Contact Center PhoneSet Manager and Contact Center Softphone
Contact Center PhoneSet Manager and Contact Center Softphone are optional applications that enable employees to use their desktop computers as IP-based phones.
Contact Center Screen Pop
Contact Center Screen Pop is an optional application that launches applications or webpages. In addition, it enables agents to automatically receive caller and account information via pop- ups on their computer monitors every time they receive calls.
Contact Center Chat with Skype for Business
With the addition of Microsoft Skype for Business Server, employees and supervisors use Skype for Business as their default instant messaging client. The presence of all company employees is natively delivered in Contact Center Client. Contact center employees can view the presence of both internal and external contacts to determine if they are available to communicate. In addition to Available, Offline, and Away, employees see In a Meeting, Busy, In a call, Do Not Disturb, Be Right Back, and other presence indicators.