Video Calls
To participate in video calls you must configure your video presence for each of your Dynamic Statuses.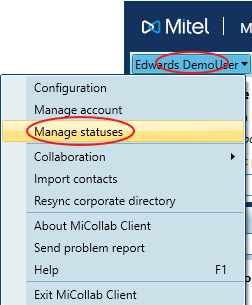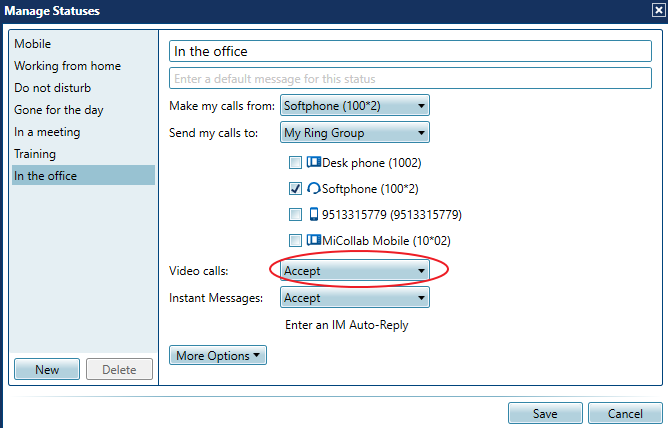 Call control is provided through the Call window, and video is controlled through the Video window.
The picture below shows the Video Window.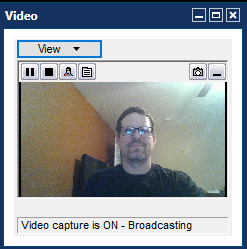 Broadcast Video
When you are ready to broadcast, click and the image from your camera is broadcast to the attendees.
The button changes to so you can pause your video broadcast.

Stop Broadcast
Click to end the video broadcast but keep the Video tab open.

Preview Video
When you start a video, the Video window is black until you click and initialize your camera. If your camera is properly installed, the video broadcast will start. Preview allows you to make adjustments to the camera before you broadcast to attendees.

Video Capture Options
Camera: Set the input for your video. Camera will broadcast your view in the Video window.

AVI Player: Set the input for your video. AVI Player allows you to browse to a file on your computer and broadcast it in the Video window.
Please note: When you select an .avi file to play, only the video portion is broadcast (not the audio from the file).
Settings: Allows you to select and adjust the video quality and video related options.

File: When AVI Player is set, you can browse to and select an .avi file to broadcast.

Repeat or Single Play: When AVI Player is set, you can play the video continuously or play it only one time.

Snapshot
Allows you to capture the video screen content and save it as a bitmap file to a location that you specify.

Hide
Allows you to hide the video screen of the selected attendee from your Video window only.