The Call Explorer opens to All Calls I Can View by default.
Every user will have call folders in their application.
The Folders are organized into two sections:
Call Views
My Call Folders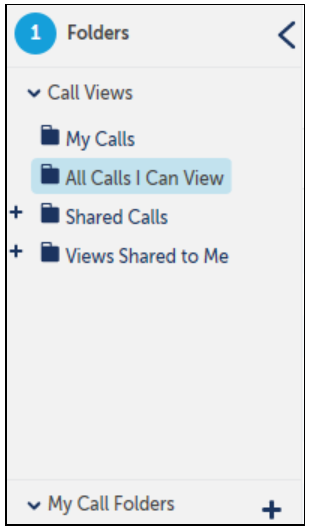 The Call Views section expands to display several types of call folders, including:
My Calls


A dynamic default folder that populates with calls that have call data (i.e. extension or agent ID) associated with the user.

All Calls I Can View


A dynamic default folder that displays all calls you have permission to view.
Calls are populated according to user permissions.

Shared Calls

expands into the following folders:

Calls Shared to Me
A static folder which means it does not have search criteria associated with it, and populates with calls that have been shared with you.

Calls I Shared
Populates with calls that you have shared with one or more users or user groups.

Views Shared to Me
None of the search criteria in these folders can be modified.
My Call Folders
My Call Folders expands to display all call folders that have been personally created.
Add personal folders to organize recordings by some interest, such as follow-up calls or for a specific customer issue, and save calls into personal call folders.