MiVoice Business Console - Installation Guide
MiVoice Business Console
Table of Contents
About This Document
System Requirements
PC Requirements
Windows Software Requirements
Software Installation
About This Document


This document contains the following information:
MiVoice Business Console™ PC and system requirements
recommended peripherals • how to install the MiVoice Business Console software
System Requirements



PC Requirements

For MiVoice Business Console, the PC must meet the requirements outlined in the table below. NOTE: Mitel does not recommend the use of Celeron-based PCs for the MiVoice Business Console as voice quality may be compromised or does not meet Mitel's voice quality standards.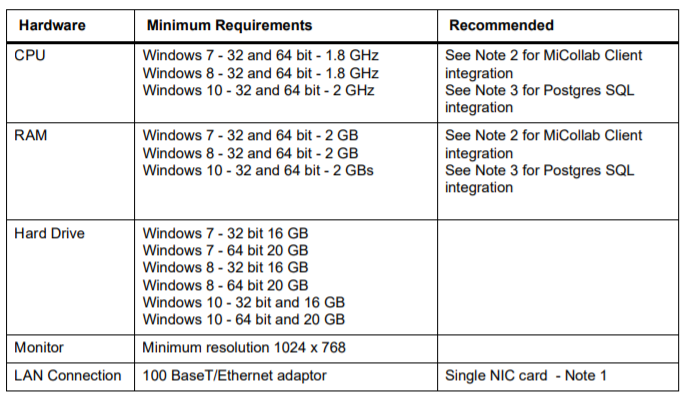 NOTES:
1. If the PC running MiVoice Business Console has more than one NIC, disable the NICs that are not being used before starting the MiVoice Business application.
2. For MiCollab Client Presence-enabled consoles that service more than 500 clients or work in a peered MiCollab Client Service arrangement, each MiVoice Business console PC must meet a minimum PC requirement of: 3.0 GHz processor speed and 4 GB of RAM.
3. The console PC running the Postgres SQL Server must meet the following minimum PC requirements for Call History and Transfer Assistant features:
– Windows 8 or Windows 10 Professional operating system (recommended) or Linux
– Processor: 4.0 GHz
– Memory (RAM) 4 GB
– Hard Drive: 200 GB
For optimal performance when running a console on a laptop, it is recommended to plug in the laptop. If using battery power, configure the PC to use a high-performance power setting. Running the MiVoice Business Console on a virtual machine is not supported.
Windows Software Requirements

MiVoice Business Console is supported on the following versions of Windows software:
• Microsoft Windows 7 SP1 or later (32/64 bit)
Professional
Enterprise
Ultimate
• Microsoft Windows 8 or Windows 8.1 (32/64 bit)
• Microsoft Windows 10 (32/64 bit)
Professional
Professional for Workstations
Enterprise
Enterprise LTSB
Education
Installation of the MiVoice Business Console on following versions of Windows software is NOT supported:
Windows Server variants
Windows N variants
Windows Professional with Media Center
Windows 10 Home
Windows 10 Mobile
Windows 10 S
Windows 10 IoT - not supported
Software Installation



Download and Install the MiVoice Business Console
A link will be provided to download the application from a member of our provisioning team.
Run the accompanying Configuration Wizard

Follow the steps in configuring the console by using the information pictured below. Redacted information will be provided by a member of the UniVoIP Provisioning team.


Once completed, clickFinish

Open the MiVoice Business Console
On the menu bar, choose and click Tools then Audio

Click on the dropdown for Voice Headset/Handset Selection and choose an available device. The MiVoice Business Console will not initiate correctly if a compatible audio device is not connected.