Phone Key Templates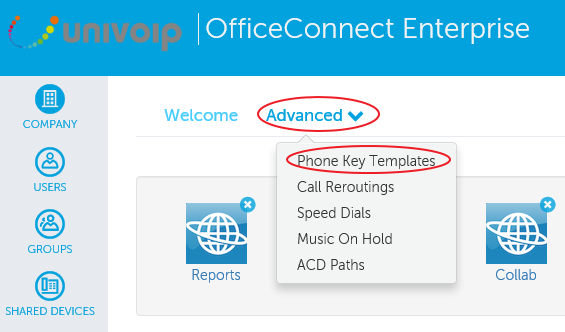 Click "Advanced", then click "Phone Key Templates".

There are four pre-defined key templates that you can view, edit or delete. In addition, you can create templates from scratch by clicking on the "Add New" button.
When you add a new user you will be able to select the key template instead of programming the phone keys each time.
To create phone key template
Click Add New.

Enter a name in the Template Name field.

(Optional) Enter a brief description of the template in the Description field.

Set up the key functions as follows:

Click the key, select the appropriate function from the Function drop-down list, and enter a name for the label. The Label Name will appear on the phone's screen next to the assigned key.
Click OK.

Click Save.
Feature Description List
ACD
An Agent can press this button...once pressed, options like "Make Busy" or "Log Out" will appear as available soft keys.
Call Forward Always
Call History
Primary Line Ring Type Option
When building a Key Template, you can select a Ring Type for the User's Primary Line.