Polycom VVX 501 Business Media Phone
The Polycom® VVX® 500 Series performance business media phones unify superior voice capabilities and applications into a simple-to-use, yet high-performance unified
communications (UC) solution. It is the ideal, all-in-one knowledge worker productivity tool, built to integrate seamlessly into a wide range of UC environments.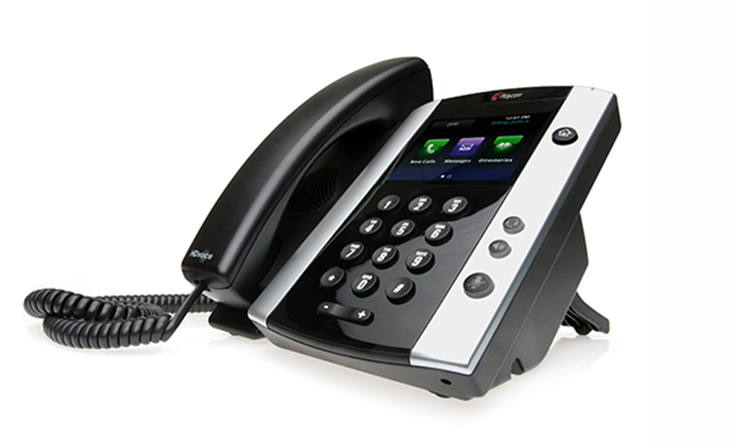 Designed for a broad range of UC environments, the VVX 500 series improves productivity through a touch-screen interface.
Polycom VVX 500 series supports expansion modules for applications such as personal videoconferencing and wireless networking. It is easy to deploy and manage with an enterprise-grade configuration method, so administrators can easily provision and maintain handsets throughout the enterprise.
Designed for enhanced interoperability, Polycom VVX 500 series leverages your existing IT investments by integrating with more IP PBX systems than any other business media phone in the industry.
Further Reading
VVX 501 Hardware Feature Descriptions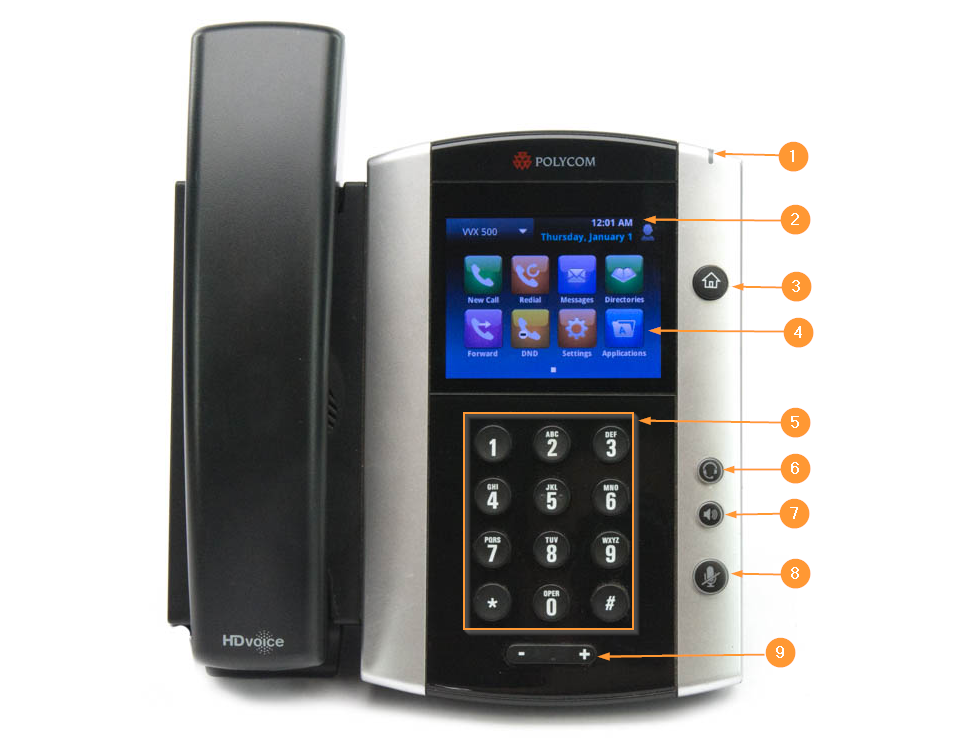 Reference Number

Feature

Feature Description

1

Message Waiting Indicator
Flashes red to indicate when you have new messages.
2
Time/Date
Provides time, and full date
3
Home Key

Displays the Home screen from other screens and displays the Lines and Calls screen from the Home




screen.

4
User Interface
Touch screen interface allows for browsing through settings and applications
5
Dial pad
Enables you to enter numbers, letters, and special characters. You can also use the dial pad keys to select menu items that have index numbers.
6
Headset key
Enables you to place and receive calls through a headset.
7
Speakerphone key
Enables you to place and receive calls using the speakerphone.
8
Mute key
Mutes local audio during calls and conferences.
9
Volume keys
Adjust the volume of the handset, headset, speaker, and ringer.
Product specifications
User interface features
Gesture-based, multitouch-capable, capacitive touch-screen
3.5-in TFT LCD display at QVGA (320 x 240 pixel) resolution, 4:3 aspect ratio
Screensaver and digital picture frame mode
On-screen virtual keyboard
Voicemail and videomail support1
Dual USB ports (2.0 compliant) for media and storage applications
WebKit-based browser
Adjustable base height
Unicode UTF-8 character support. Multilingual user interface including Chinese, Danish, Dutch, English (Canada/US/UK),
French, German, Italian, Japanese, Korean, Norwegian, Polish, Portuguese, Russian, Slovenian, Spanish and Swedish
Call handling features
12 lines (registrations)
Up to 24 simultaneous calls
Shared call/bridged line appearance
Flexible line appearance (1 or more line keys can be assigned for each line extension)
Distinctive incoming call treatment/call waiting
Call timer and call waiting
Call transfer, hold, divert (forward), pickup
Called, calling, connected party information
Local 3-way audio conferencing
1-touch speed dial, redial
Remote missed call notification
Do not disturb function
Electronic hook switch capable
Local configurable digit map/dial plan
Network and provisioning
Network (LAN) cable - CAT-5E
SIP protocol support
SDP
IETF SIP (RFC 3261 and companion RFCs)
Two-port gigabit Ethernet switch

10/100/1000Base-TX across LAN and PC ports
Conforms to IEEE802.3-2005 (Clause 40) for physical media attachment
Conforms to IEEE802.3-2002 (Clause 28) for link

Partner auto-negotiation
Manual or dynamic host configuration protocol (DHCP)
DHCP network setup
Time and date synchronization using SNTP
FTP/TFTP/HTTP/HTTPS server-based central provisioning for mass deployments
Provisioning and call server redundancy supported
QoS Support—IEEE 802.1p/Q tagging (VLAN), Layer 3 TOS and Diffserv/DSCP
VLAN—CDP, DHCP VLAN discovery, LLDPMED for VLAN discovery
Network address translation support for static configuration and "Keep-Alive" SIP signaling
Security
802.1X authentication and EAPOL
Media encryption via SRTP
Transport layer security
Encrypted configuration files
Digest authentication
Password login
Support for URL syntax with password for boot server address
HTTPS secure provisioning
Support for signed software executables
Power
Built-in auto-sensing IEEE 802.3 at Power over Ethernet (Class 4)
External universal AC adaptor (optional, 48V 0.52A DC)
Approvals
FCC Part 15 (CFR 47) Class B
ICES-003 Class B
EN55022 Class B
CISPR22 Class B
VCCI Class B
EN55024
EN61000-3-2; EN61000-3-3
NZ Telepermit
Korea KC ***
UAE TRA
Russia CU
Brazil ANATEL
Australia RCM
South Africa ICASA
China CCC
Saudi Arabia CITC