Polycom VVX 300/311 Business IP Phone
The Polycom® VVX® 300/311 business IP desk phone is a powerful entry-level phone for today's cubicle workers.
These powerful 6-line entry-level Business Media Phones are for today's cubicle workers that handle a low to moderate volume of calls and need crystal clear communications.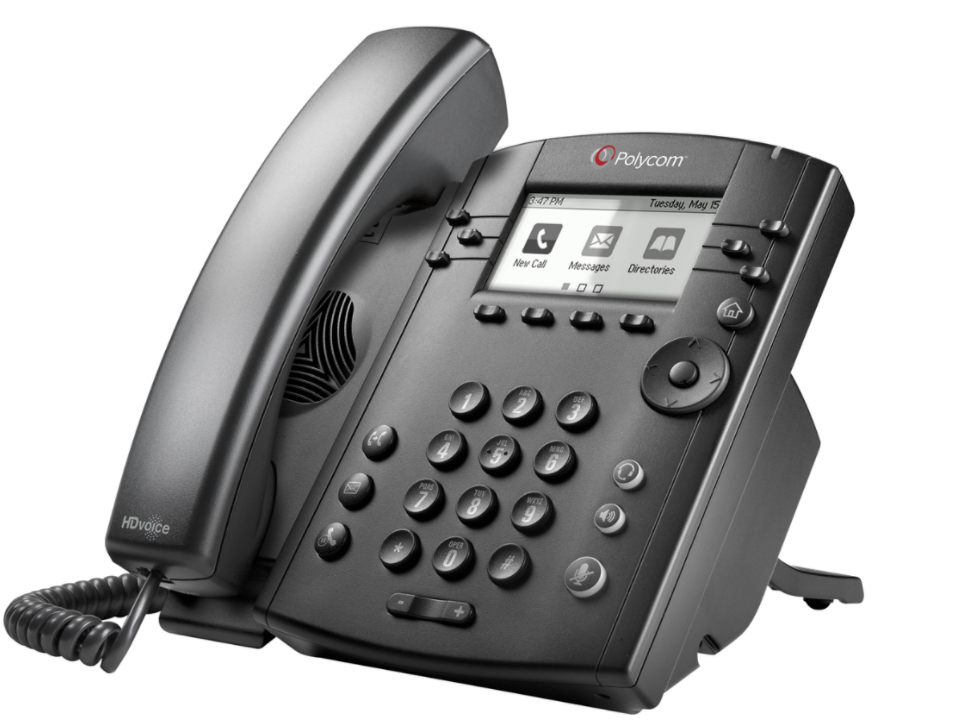 Industry's best audio
HD Voice™ technology delivers lifelike voice quality for each audio path hand set, the hands-free speakerphone, and the optional headset
Acoustic Clarity™ technology providing full-duplex conversations, acoustic echo cancellation and background noise suppression.
Further Reading
VVX 150 Hardware Feature Descriptions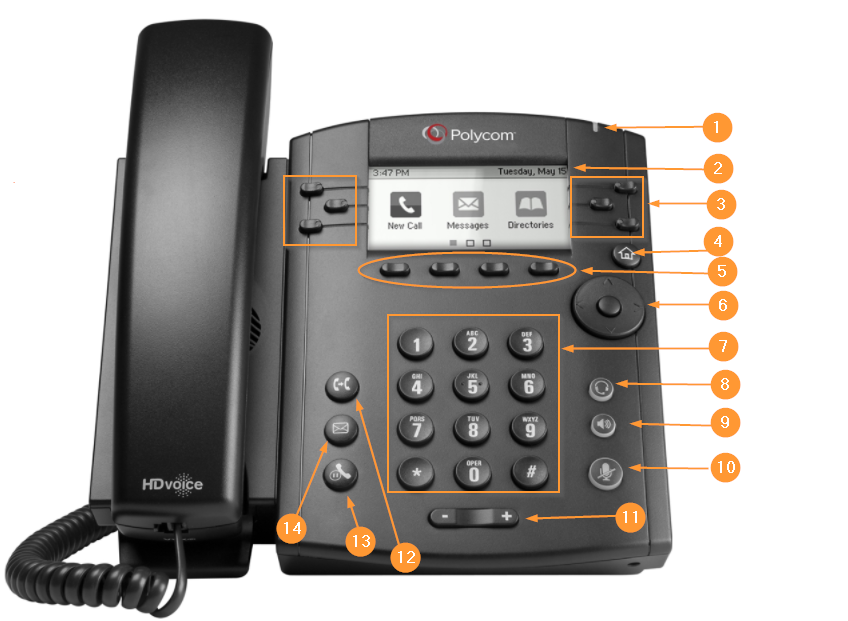 Reference Number

Feature

Feature Description

1

Message Waiting Indicator
Flashes red to indicate when you have new messages.
2
Date/Time
Provides real time day of the month, and day of the week.


Line Keys
Enable you to select a phone line, view calls on a line, or quickly call a favorite contact.
4
Home Key

Displays the Home screen from other screens and displays the Lines and Calls screen from the Home




screen.

5
Soft Keys
Enable you to select context sensitive keys that display along the bottom of the screen.
6
Navigation/Select
Scrolls through information or options displayed on the phone's screen. Selects a field of displayed data.
7
Dialpad
Enables you to enter numbers, letters, and special characters. You can also use the dial pad keys to select menu items that have index numbers.
8
Headset
Enables you to place and receive calls through a headset.
9
Speakerphone Key
Enables you to place and receive calls using the speakerphone.
10
Mute key
Mutes local audio during calls and conferences.
11
Volume Keys
Adjust the volume of the handset, headset, speaker, and ringer.
12
Transfer
Transfers an active call to a contact.
13
Hold
Holds an active call or resumes a held call.
14
Messages
Enables you to access and manage instant and voice messages.
Product specifications
User interface features
3.2 in Backlit 8-level Grayscale graphical LCD (208 x 104) resolution
Voicemail support *
WebKit-based browser
Adjustable base height
Unicode UTF-8 character support. Multilingual user interface including Chinese, Danish, Dutch, English (Canada/ US/UK), French, German, Italian, Japanese, Korean, Norwegian, Polish, Portuguese, Russian, Slovenian, Spanish, and Swedish
Call handling features
6 lines (programmable line keys)
Shared call/bridged line appearance
Busy Lamp Field (BLF)
Flexible line appearance (1 or more line keys can be assigned for each line extension)
Distinctive incoming call treatment/ call waiting
Call timer and call waiting
Call transfer, hold, divert (forward), pickup
Called, calling, connected party information
Local 3-way audio conferencing
1-touch speed dial, redial
Remote missed call notification
Do not disturb function
Electronic hook switch capable
Local configurable digit map/dial plan
Network and provisioning
SIP Protocol Support
SDP
IETF SIP (RFC 3261 and companion RFCs)

Two-port Ethernet switch

10/100Base-TX across LAN and PC ports (VVX 300)
1000Base-TX available on VVX 310
Conforms to IEEE802.3-2005 (Clause 40) for Physical media attachment

Conforms to IEEE802.3-2002 (Clause 28) for link partner auto-negotiation
Manual or dynamic host configuration protocol (DHCP) network setup
Time and date synchronization using SNTP
FTP/TFTP/HTTP/HTTPS server-based central provisioning for mass deployments
Provisioning and call server redundancy supported *
QoS Support – IEEE 802.1p/Q tagging (VLAN), Layer 3 TOS and Diffserv/DSCP

VLAN - CDP, DHCP VLAN discovery, LLDP-MED for VLAN discovery

Network address translation support for static configuration and "keep-alive" SIP signaling

RTCP and RTP support
Event logging
Syslog
Hardware diagnostics
Status and statistics reporting
IPv4 and IPv6
TCP
UDP
DNS-SRV
Security
802.1X authentication and EAPOL media encryption via SRTP
Transport layer security
Encrypted configuration files
Digest authentication
Password login
Support for URL syntax with password for boot server address
HTTPS secure provisioning
Support for signed software executables
Power
Built-in auto sensing IEEE 802.3af Power over Ethernet (Class 2)
External Universal AC adapter (optional), 48VDC 0.3A
Approvals
FCC Part 15 (CFR 47) Class B
ICES-003 Class B
EN55022 Class B
CISPR22 Class B
VCCI Class B
EN55024
EN61000-3-2; EN61000-3-3
NZ Telepermit
Korea KC ***
UAE TRA ****
Russia CU ****
Brazil ANATEL ****
Australia RCM
RoHS Compliant
*** Planned future compliance
**** Planned future compliance for VVX 301/311.