Sending an IM
You can send an interoffice IM to a coworker App to App.
From the Contacts tab

Control-Click on the contact and choose Send IM. The contact must have a softphone address.

Or click on the IM icon that appears to the right of the contact name.

An active phone call

If the person is a contact, choose Send Instant Message from the call panel menu.

An active conference call

If the participant is a contact, choose Send Instant Message from the participant menu.

From the Messages window

Click the New Conversation icon beside the Search field, and type a number or name.

Type the message. Include emoticons and formatting (Ctrl+B, Ctrl+I, Ctrl+U), as desired.

Click the Send icon or press your Enter Key.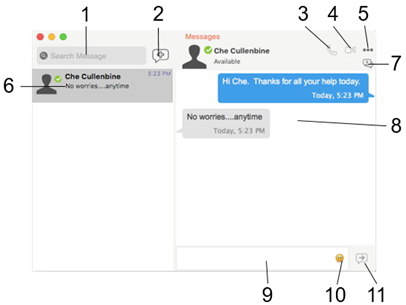 1. Search Field. Search your messages using key words.
2. New Conversation. Click to create a fresh conversation with a contact.
3. Voice Call. Click to call that contact.
4. Video Call. Click to video call that contact.
5. More. View or edit the contact's profile, export or delete the conversation.
6. Conversation Selection. Click on the conversation you need.
7. Group Chat. Click to create a group chat.
8. Conversation Window. Includes the actual messages.
9. Entry Field. Type your messages here.
10. Emoticon Icon. Click to view available emoticons.
11. Send. Click to send your instant message.
Receiving an IM
When an IM is received, either the Messages window or a Call Alert pops up. (To control which window appears, choose UniVoIP App > Preferences > Alerts & Sounds.