The Contacts window displays your contacts. Each contact is shown with presence information and icons for single- click to phone or IM.
If the Contacts tab is not showing, go to the menu bar and choose View > Show Contacts.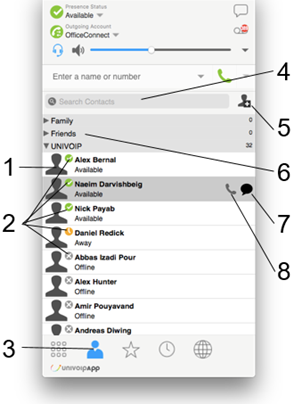 1. Contact Picture. You can edit a contact and upload a picture from the Contact Menu or by Control- Clicking on a contact.
2. Real-Time Status Indicators. See the status of your coworkers.
3. Contacts Button. Click to bring your Contact Groups into the main window.
4. Search. Search for one of your Contacts here.
5. Add. Click to add a new Contact.
6. Contact Groups. Click to expand each group.
7. Chat. Click to begin an Instant Message with the selected Contact.
8. Call. Click to place a call to the selected Contact.
Control-Click on a Contact to get the menu below: