Conference Call (3-Way Call) (iPhone)

When you have two UniVoIP App calls established, you can merge the calls into a three-way conference call by tapping the Merge button.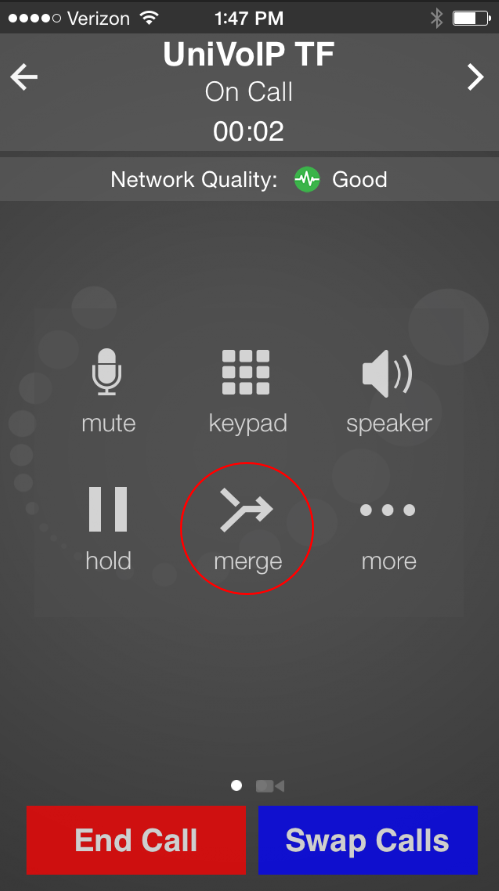 The two calls are merged into a conference between you and the other two parties. If desired, you can Split the conference back into two separate calls. The top call will be the live call. Pressing End Call ends the conference and hangs up on both calls.
Options for when you are on a 3-Way Call: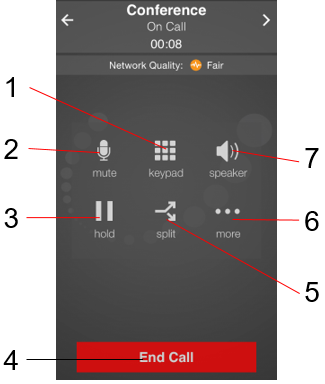 1. Tap to show a keypad in order to enter numbers, for example, when choosing menu items such as "enter 1 for customer support".
2. Mute or unmute your microphone.
3. Hold or release hold.
4. End the 3-Way call for all parties.
5. Split the 3-Way call into separate calls.
6. More Icon: From here you can start recording the audio of the 3-Way call.
7. Enable or disable speakerphone for the active call. Or choose other audio output options if connected.
To use a Bluetooth device, Use Bluetooth under Preferences must be turned on.