Transfer to a Voicemail Box
Method 1: A single key to transfer to any coworker's voicemail box
How to Configure
Create an Auto Attendant or re-use one that has an available selection (0-9, #, *)
In the drop down of this selection pick – Voice Mail Deposit
On the phone (s) that needs to do the transferring – create a button with a speed dial to this Auto Attendant (e.g. extension 7xxx)
How to Use
Call comes in and the caller is to be transferred to Voicemail.
Hit Conf, Speed Dial (to AA you created), select the menu option defined above, (wait for VM deposit prompt), dial ext of person you wish to transfer to, hang up.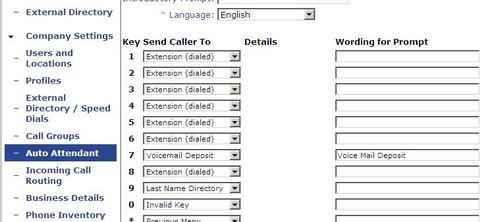 Method 2: A key dedicated to transfer to one specific coworker's voicemail box
How to Configure
Create a Linear Hunt Group and label it "Transfer to <name's> VM". Record the extension of the group (e.g. 6xxx)
Place no members in this group. Define Call Coverage for this group as Employee Voice Mail and select the specific party to whom you want to transfer directly to VM. Save.
On the phone (s) that needs to do the transferring – create a button with a speed dial to this Group.
How to Use
Call comes in and the caller is to be transferred to Voicemail.
Press Transfer, press the speed dial key for the Transfer to VM key, press Transfer